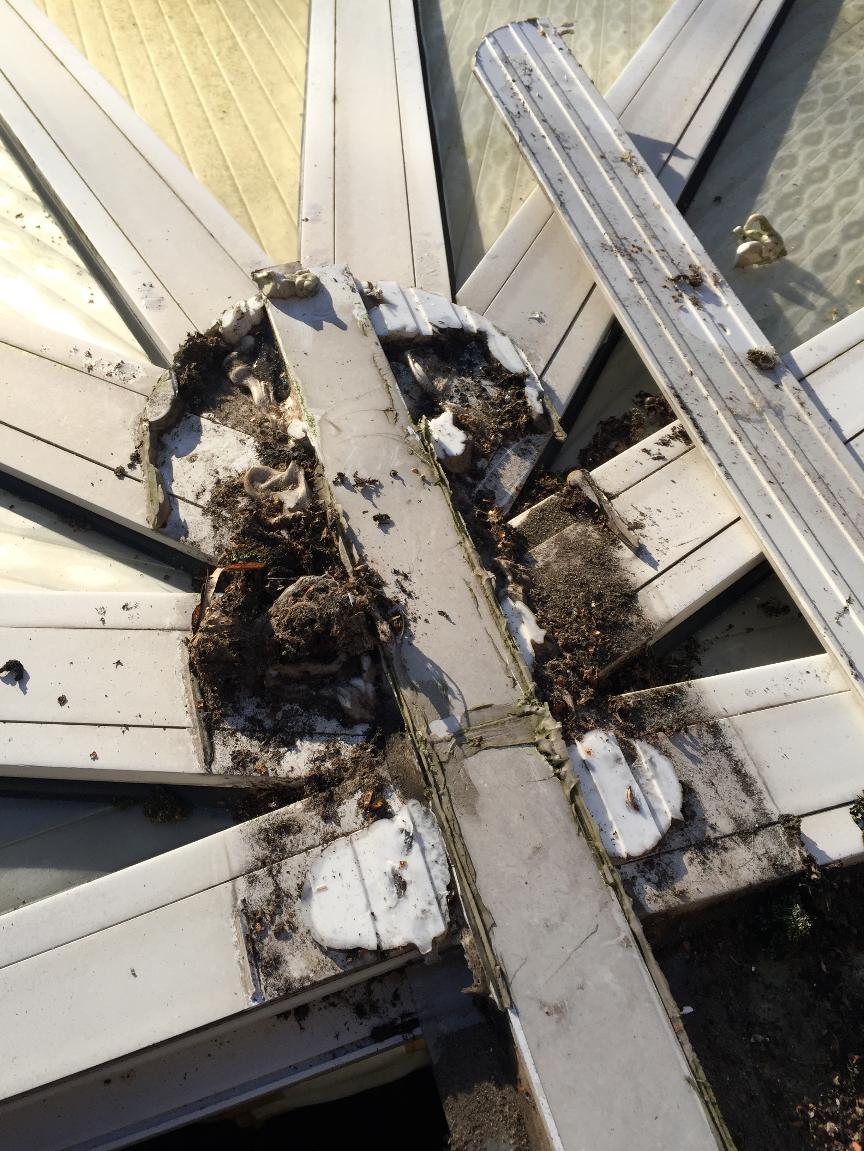 iT'S NO WONDER SOME CONSERVATORY ROOFS LEAK!
This page is to offer you free help if you have a problem with your conservatory. We will be adding to it regularly, highlighting common problems and faults with conservatories. If you have a particular conservatory repair question, please mail us. You will get a personal reply and we will also publish details which may help others.
Perhaps the most common problem with a conservatory roof is leakage and rain water ingress. These types of problems can sometimes be very difficult to trace as the leak may appear quite a distance from the source.
Firstly, I must say, that of the hundreds of conservatories we have seen, there does not appear to be any such thing as a bad conservatory manufacturer. Almost all are mini masterpieces of design, some are more sophisticated than others, but that is just progress.
If we accept this, then leaving aside faulty workmanship (we will discuss that later), what are the most common causes of conservatory roofs leaking.
Old age
We all get older, modern conservatories have probably only really been around since the 1970's, but that still means that there are a lot out there at 40 years old, even more at 30 years, and more still at 20 years. 1980's-90's were a boom time.
We find that with upvc conservatories, generally the structure is pretty sound, but the polycarbonate panels have become brittle or UV damaged. This can be a simple matter of installing new polycarbonate roof panels. Faulty wall flashing. This is probably the most common source of leaks on all older conservatories. Quite often we find that the original foil faced flashing has literally turned to dust. Whilst modern flexible adhesive flashings are really quite good and durable, the old ones were marketed for smaller repairs and patching jobs. It is a credit to the manufacturers that they have lasted so long. Again a fairly simple repair with modern materials, but the old bitumen based stuff can be a nightmare to remove from polycarbonate and pvc to get a clean fixing. We also note that some manufactures of polythene base roofing materials do not recommend bitumen based flashing as it can degrade the panels over time. All us old timers swear by lead flashing, but it can be difficult to seal on low pitched roofs. There are synthetic equivalents now, which can be dressed exactly as you would lead, we have tried them on certain jobs and were very pleased. Also no-one can sell the stuff as scrap. We do use modern butyl based adhesive flashing on occasions, but often use it as an undercloak to conventional flashing, so it is protected from the elements.
Older timber conservatories have their own set of problems. Quite often they have pvc snap down bars retaining the panels. Again these are very good, but become brittle over time. Aluminium cappings are very durable but often they are held down with screws with plastic caps. These caps become brittle, get knocked off during cleaning and so on. This exposes the screw to the elements, unless it is stainless, it will rust, the timber beneath softens and the screw loosens.
There is rarely any other option than fitting new cappings and base seals. We never use the type with the exposed screw, our bars have a separate aluminium capping which shields the fixing screw from the elements. We like to sleep at night.
We do occasionally use snap down pvc cappings where economy is paramount, and the new types with a bonded edge seal are pretty good, but they are never, our opinion as durable as powder coated aluminium. These faults by the way do not apply, in general to the type of capping fitted to upvc/aluminium conservatories, i.e those without timber rafters, they are a different construction completely and very well engineered and long lasting.
Other problems which haunt older conservatories are mushroom shaped fixing buttons. They are often fitted to secure the bottom edge of a panel and prevent slippage. These have a foam seal underneath which should be renewed when there is any sign of hardening.
That' s it for old age.
Problems with newer conservatories.
We have all heard horror stories about unfinished and shoddy workmanship from conservatory companies and builders. Fortunately, taken in proportion to the number of installations carried out over a typical year, they are a small minority. Most conservatory companies do a really good job. Problems do occur even with the best, but providing they are resolved promptly they do not present a problem. Most companies offer an insurance backed warranty for, say 10 years.Lets face it bad news travels faster than good.
Having said that there can be ongoing problems with your new or middle aged conservatory. Probably one of the most respected timber bespoke conservatory companies had an appalling track record with customer care. This was bred out of a total disregard for their clients from director level downward. I used to do some contract for them, they just did not care. They still got huge deposits in simply on their (supposed) 100 year plus tradition of fine workmanship. Actually the fitters were brilliant, but company policy prevented them helping their clients. I cannot for obvious reasons name the company!
That's the rant over with
Most conservatories are surveyed, and computer designed, and then the components are manufactured off site. A kit is then delivered and erected. Given an accurate survey, this is a great system. The manufacturers use sophisticated CAD, CAM technology and produce a flawless product.
Why then do we ever get to see a " faulty" conservatory ?
Apart from normal wear and tear then the most common problem we encounter is sadly due to faulty installation. Most specialist conservatory companies really do a great job. If there is a problem they have the resources and expertise to resolve the problem.
Problems can arise when a conservatory is erected by a general builder or diy enthusiast who is unfamiliar with the product. This usually manifests itself with poorly fitting polycarbonate roof panels. You can be certain that the roof and panels came out of the factory accurately sized, so what went wrong?
Fairly small errors in the building of the frame and its geometry can be magnified to such an extent that panels no longer fit correctly. This is most often seen on the corner triangles of Georgian or Edwardian roofs. We often find panels seated by only a couple of mm, or skewed round so that they sit on the glazing bars. If you look along the eaves of a well built conservatory, the edges of the panels should be in a straight line. If they are not, then either a panel has slipped or the geometry is wrong. Beads of silicone sealer along the edges of the glazing bars are another giveaway, correctly built this is not required.
Other problems come with missing breather or foil tapes to the edges of panels. This can lead to the polycarbonate panels filling with water in extreme cases, to insects, moss and dust in the cavities.
Polycarbonate panels are not hermetically sealed and as such all roofs will have varying degrees of condensation inside the panels. This is normal and can increase with age. However polycarbonate manufacturers clearly require that the sheet closers on the ends of panels are sealed with a bead of silicone. Often this is not done, or worse the sealer is applied over the breather tape. This sealer attacks the adhesive on the tape resulting in the sheet closure being nicely bonded to the tape, but not the panel. Ideally the sealer should be run just inside the lip of the sheet closure, or along the outside edge. Further the ends of the sheet closure should be sealed too, provided there are drain holes on the lower edge.
A few horror pictures, note none of these installations were diy jobs, or I must say, established conservatory companies. But all assured me they had years in the business. I actually e.mailed the photos to one asking for his comments. His reply was "what's wrong with that?" I am pleased to say that the small claims court found plenty wrong with it, and it cost him a lot of money.
Gallery of conservatory problems
A very dirty conservatory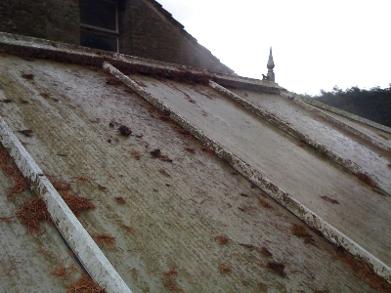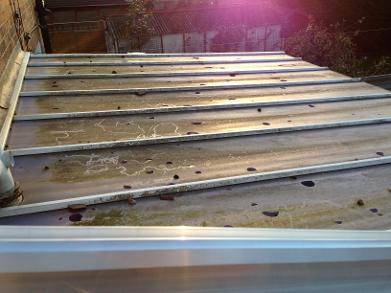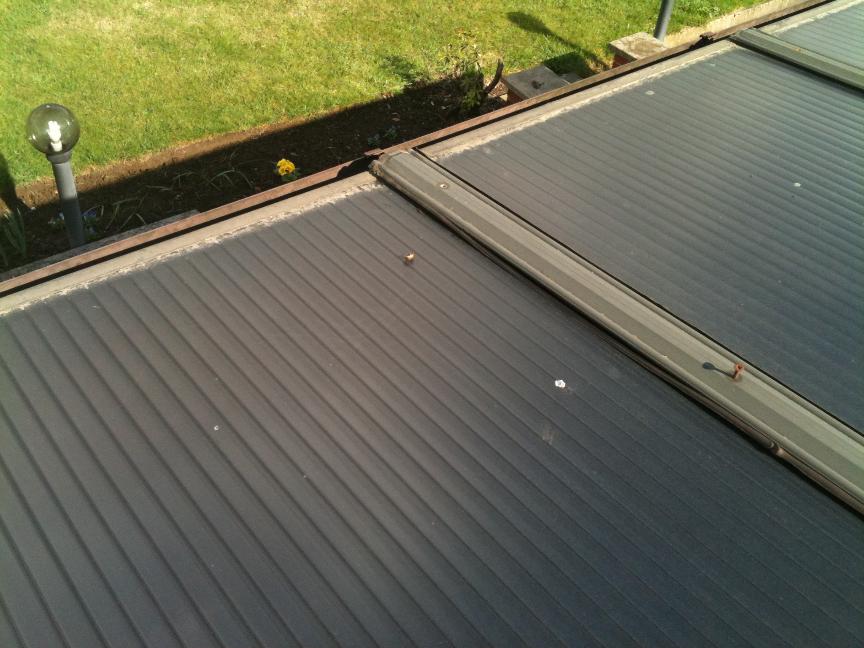 A typical timber supported conservatory roof. The screws have worked loose, and the seals have perished . Just old age.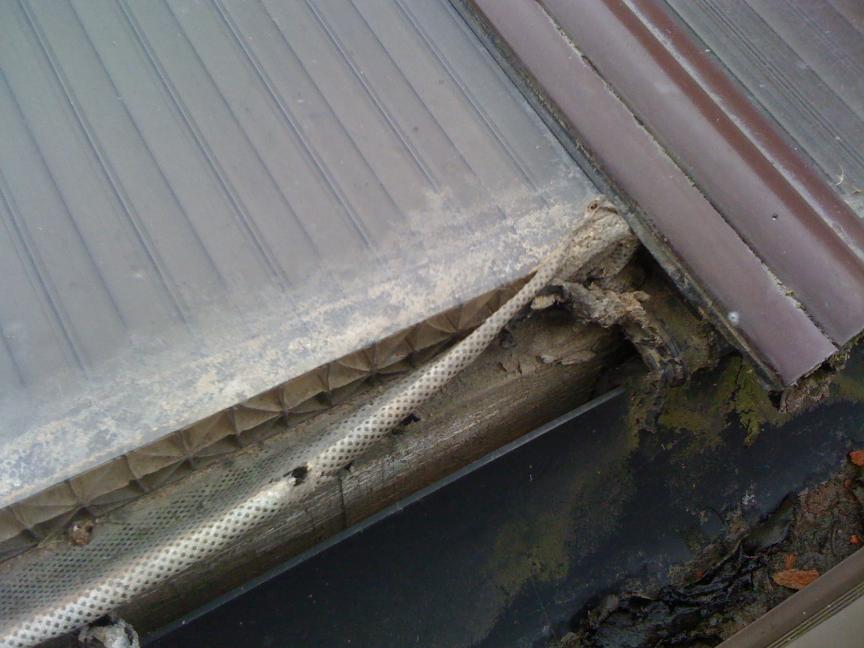 This panel on a two year old conservatory is cut at least 50mm short. It doesn't even overlap the timber eaves beam, never mind reach the gutter. Water was pouring inside. The panel didn't shrink in the rain, it was installed that way and whoever did it was happy to walk away knowing it was wrong, because all the other panels were correct. At the time of building a new sheet would have cost about £50 maximum, but they still left it like this.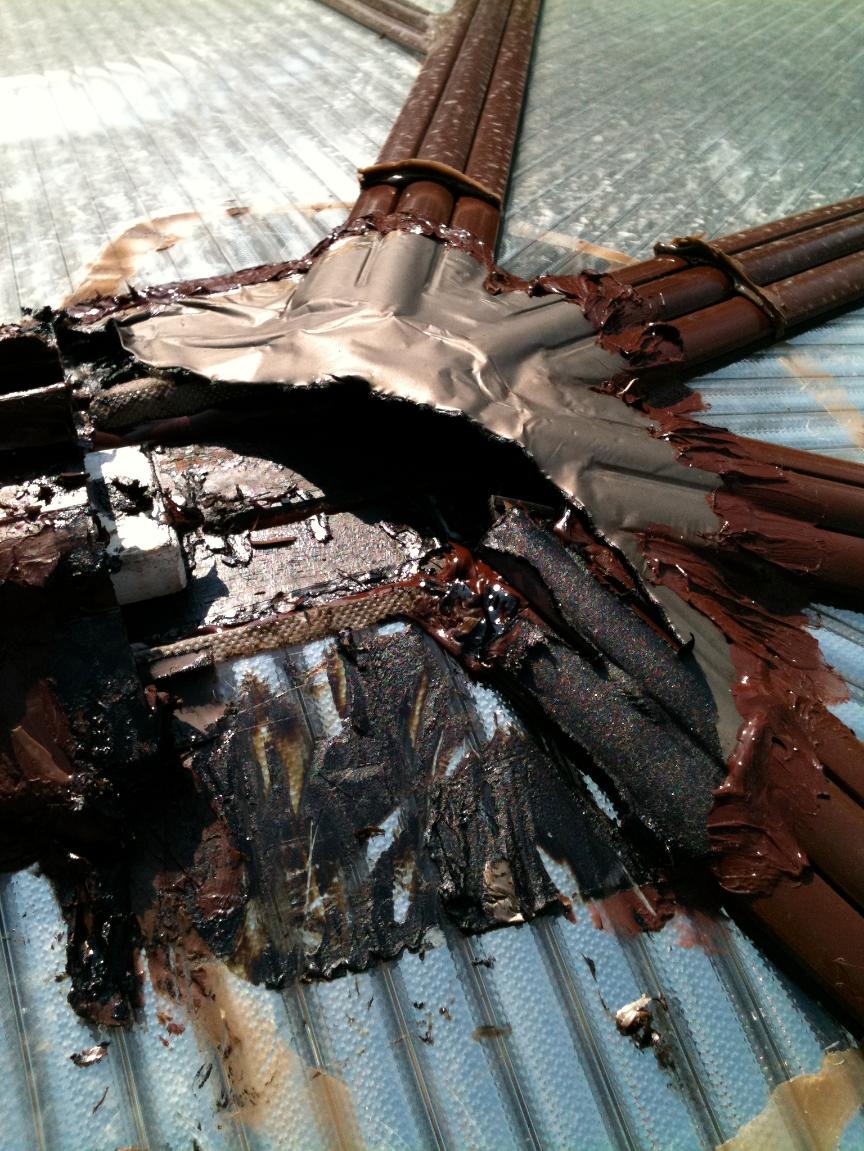 A brand new roof fitted by a supposedly experienced installer. The roof leaked from day one. After giving the comapny every opportunity to rectify the problem, we took of the cresting and spider cover to find this mess! Bear in mind this is a brand new roof and the client was charged over £6000. Probably spent that on sealer.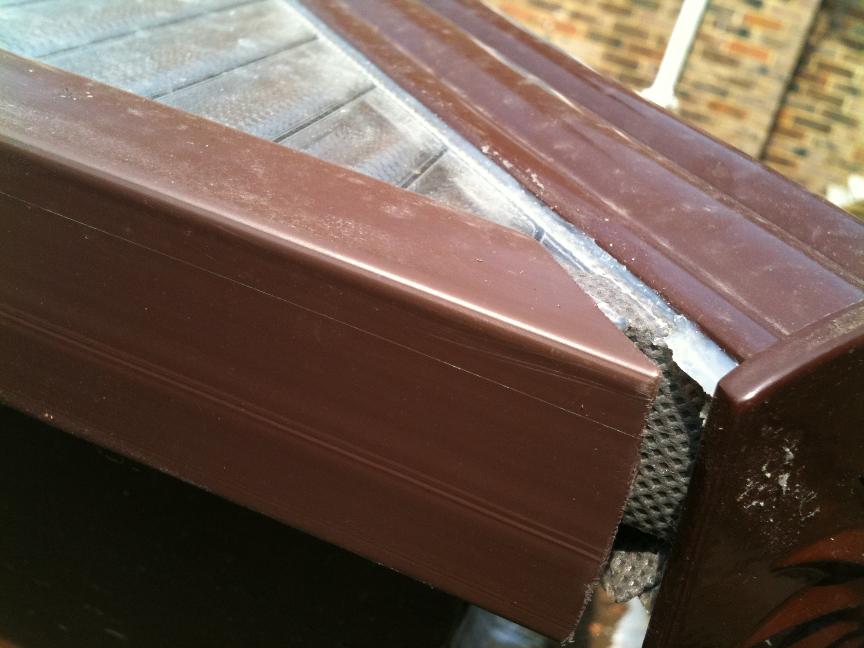 How not to fit a sheet closure. It should extend under the glazing bar and be sealed. Note the exposed breather tape. There is also a line of sealer along the edge of the glazing bar suggesting that the panel is only just resting on the rafter seal. All 20 panels on this newly re-roofed conservatory were like this. What's the excuse?
After recent giant hailstones in Leicestershire this is just one example of the damage they can cause to a conservatory roof.